At The Great Frame Up – St. Louis we have focused on the highest quality custom framing services to our customers throughout the metro area.
We have also offered other gift and art items at our store in the past. In an effort to streamline our operation and our consolidated store in Old Webster, we are clearing out many of these gift items at fantastic prices.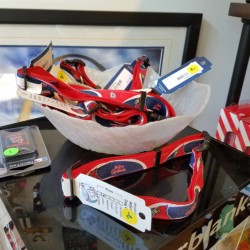 A great example is this St. Louis Cardinals dog collar shown here for just $2. You certainly can't find a better deal! A quick check elsewhere online shows the best price you'll find anywhere for a similar collar is about $12-15. Most of our other items are at similar discounts.
Take advantage of our clearance sale and come in to see what we have, you could find the perfect gift for a special person in your life at a huge discount!
Come see us at 31 Allen Avenue in Old Webster, or give us a call at (314) 892-8333 if you'd like to learn more about what great items we have on sale ~
Save