St. Louis – Custom Framed Jerseys
When talking about St. Louis custom framed jerseys, there are a good number of legendary ballplayers and hockey stars that have played in our city over the years. We see plenty of Cardinals and Blues jerseys during the year – they make great graduation and birthday presents, Christmas gifts and all kinds of other memorable events.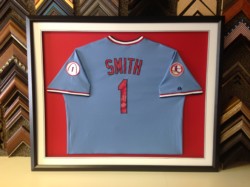 Or maybe you're looking for something for your den or office that is sure get noticed? A custom sports jersey display, or any sports memorabilia for that matter, is a guaranteed conversation starter.
A Present for all Seasons
No matter their age or occasion, this is one gift that the sports lover can appreciate! We can get as creative as you like with your jersey display, too. Often times we incorporate player cards, balls, photos, autographed memorabilia and more in the shadowbox.
We can also use the team font or logo of your choice, among a great many other framing options that St. Louis custom framed jerseys customers can take advantage of at The Great Frame Up – St. Louis.
Unique Graduation Gifts
It's not often that you can give a gift that is truly one-of-a-kind, no matter the expense. A custom sports jersey shadowbox of one of their jerseys is an exception, and the PERFECT graduation gift for your son, daughter or loved one.
Forget the wins and losses… if they enjoyed the competition and comradery of sports this is a gift they will appreciate! This beautiful piece of art is something they will cherish forever, a reminder of some of their great moments at school and also of you, the thoughtful gift giver.
Of course you can't go wrong with the framed jersey of a favorite player, too!
(Not in to sports? There are many other types of items that would look great in custom made shadowbox. Let's talk about some other creative ways to showcase a loved one's accomplishments at school…)
Our Experience with Framed Jersey Displays
We have decades of combined experience creating high end sports memorabilia at The Great Frame Up – St. Louis. This includes a beautiful wood frame, your choice of an acid free mat, sew down of items, regular glass and all finishing work. Add UV glass for just $40, to further protect this treasured item from the elements.
Our team takes extreme pride in being able to frame our jerseys with the most cutting and creative designs, at the best prices you'll find anywhere.
The Great Frame Up St. Louis is one of the area's most knowledgeable and highly-rated custom framing and gift shops. Call us today to learn more at (314) 892-8333 or stop by the store at 31 Allen Avenue, 63119, right off Lockwood Ave in Old Webster Groves, conveniently located between HWY 44 and 64/40.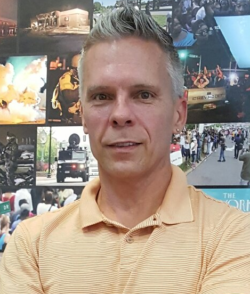 Bruce Shoults, Owner | The Great Frame Up – St. Louis
And if you can't come to us, we'll come to you! We offer personal drop-off and delivery for a wide range of qualifying jobs. Very few other frame shops can offer you that level of personalized service.
Those looking for cheap artwork framing in St. Louis usually get what they paid for, but we offer inexpensive custom artwork framing with work of the highest caliber. You won't find more available options and personal service anywhere in the metro area, from Ladue to University City, Ballwin to Maplewood, Creve Coeur to Oakville – and everywhere in between!