Let a Custom Photo Collage Tell Your Story
Why are you hiding all those smiles and happy memories in a photo album? Or some of the most significant moments in your life on a computer screen?
We feel these pictures deserve better, and creating personalized photo frames and collages is a specialty at The Great Frame Up – St. Louis. We've got all the designs you need to display your images with class.
A gift for any season – or reason!
You can't buy a more unique Christmas gift than a beautiful arrangement of your loved one's photos. They're something that will be treasured for any holiday season.
Add a special date or heartfelt message, and you have the perfect engagement, wedding or graduation keepsake too! For a thoughtful baby gift, create something with their name, birthday and weight. Or surprise him or her with an anniversary gift they won't forget. Don't forget birthdays, Mother's Day and Father's Day too!
As you can see, there a million different reasons why a custom photo collage from The Great Frame Up – St. Louis makes a fantastic gift idea. And maybe this isn't a gift to anyone else at all… but something for yourself displayed in your home or office to enjoy.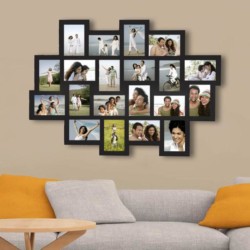 No matter the reason, at The Great Frame Up – St. Louis there is an almost limitless number of ways you can showcase your photos for your own enjoyment and to share with others.
Huge Selection of Quality Frames and Mats
We have an extensive selection of photo frame styles and sizes, and hundreds of mat choices too. Our experts here at the shop have decades of combined experience with creating all types of photography collages – elegant, whimsical, formal.
We will help you design something that you will be proud to give to the lucky recipient. Something that will remind them of you every time they see it!
At The Great Frame Up, we feel that the framing process is so much more than simply hanging and displaying your pictures (or art, memorabilia, jersey; you name it we can frame it!).
Our custom pieces are designed to enhance the beauty of pictures as well as the room in which they are displayed. You won't find more attention to detail or better customer service than you will with us, I guarantee it! Call (314) 892-8333 or visit us in the heart of Old Webster, 31 Allen Ave, 63119.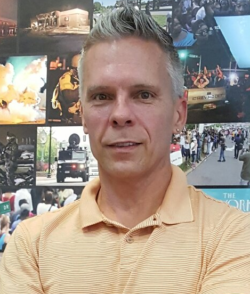 Bruce Shoults, Owner