We've been able to enough to enjoy quite a bit of beautiful photography here at our local frame shop in St. Louis. We love the challenge of matching the wonderful pieces that come through our front door with frames and mats that really make them shine.
Custom framed family photos are always a popular choice, and parties and other group events are often the perfect setting. The recent 4th of July holiday was filled with fireworks, music and celebration here in town, another opportunity for special family gatherings – and the photos they provide.
Perhaps you were able to take some of your own this year?
This year's holiday was especially grand, with Fair St. Louis returning to its traditional home at the newly renovated Arch grounds after a 4-year hiatus. Independence Day and the return of the Fair was the perfect backdrop for the public unveiling, as our country celebrated 242 years of freedom.
The annual event had been held in Forest Park the last few years due to construction. Visitors will now find a brand new (and free!) Gateway Arch Museum and can check out the newly created land bridge over I-44 which now connects the monument to the rest of the city.
If you weren't able to make this year's festivities, no worries – there are plenty of other events planned for the Arch Grounds this year, so you can create your own photo opportunity!
HONOR THOSE WHO SERVED
Of course, the 4th of July holiday is also a great reminder of the sacrifice of those military men and women who have served our country over all these years.  If you have a loved one who's been in our armed forces, a custom framed piece is a great way to honor their service!
Photos, military medals and insignia, pins, vintage maps, certificates and awards, memorial flags – we can frame these mementos singularly, or by creating a custom-made shadowbox (display case) in many different arrangements.
Our motto at The Great Frame Up – St. Louis is "If You Can Name It, We Can Frame It!" So, no matter what significant or special items you might have, we can help design a gorgeous way for you to preserve and display them.
We use the finest conservation-quality materials like acid free mats and adhesives, and UV resistant glass, and our workmanship is based on decades of framing expertise. When you need local custom framing in Webster Groves, Kirkwood, Glendale, Crestwood, Sunset Hills, Manchester, Maplewood, Clayton and everywhere in between – think of us first!
Give us a call at (314) 892-8333 or stop by at 31 Allen Avenue, 63119 in the heart of Old Webster. Bring some of the items you think will work best, or we can brainstorm together to create the perfect art for you.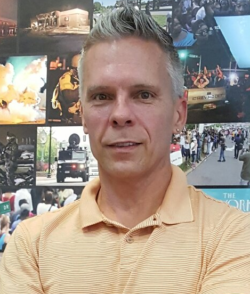 Bruce Shoults, Owner
The Great Frame Up  – St. Louis