Boutique Custom Framing Services in St. Louis at Affordable Cost
We are one of the area's most knowledgeable and highly-rated custom framing and gift shops, offering boutique custom framing in St. Louis at affordable prices, conveniently located in the heart of Old Webster Groves.
You may not be used to seeing the words "boutique" and "affordable" in the same sentence. But at The Great Frame Up – St. Louis, we do things a bit differently than what you'll find elsewhere. We offer many of the things our bigger competitors don't, like free pickup and delivery. We also provide in-home consultation, where you can sit down with one of our experts and discover together what will work perfectly in your space.
Despite this extremely high level of customer service, shop around and you'll see that our prices are competitive with anyone in town. We've made exceptional service a primary focus, and those don't just represent hollow words to us. And very simply, we are want to invest in a long-term relationship with you, our extremely valued customer – so that we can keep your business for life, and you'll happily tell family and friends about your experience with us. We include Review cards with each receipt, very much encouraging customers to share their thoughts and opinions, too.
The result of all this? A high end, boutique level of personalized customer service, without the cost you might expect.
We like to say "If You Can Name It, We Can Frame It" at The Great Frame Up – St. Louis. Why? Because at our highly-rated gift and custom framing shop in Webster Groves, we've seen and framed just about anything you could imagine.
Collectively we have framed thousands of pieces of art and photography, from high-quality standard framing up to preservation-level framing. We feature shadow boxes for athletic gear, jerseys and memorabilia, military tributes, family heirlooms and more – we've been entrusted to beautifully display these treasured objects in your home or office for decades.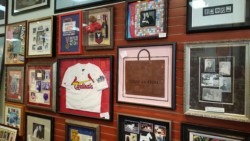 WHAT PRODUCTS SET THE GREAT FRAME UP – ST LOUIS APART?
Creatively Designed Custom Framing for Your St. Louis Area Home and Business
Shadowboxes Custom Built for Sports Jerseys and Other Athletic Gear, Military Items, Family Heirlooms (Our Special Offer Coupon Available for a Limited Time!)
Hundreds of High Quality Frames to Choose From
Many Different Frame Collections Available
Hundreds of Standard and Preservation Quality Mat Choices Available
Conservation Quality and Specialty Mat Cuts, Fabric Matboard, Liners, Fillets and Stack Mouldings
UV Filtering – Protectant Glass
WHAT ARE THE BENEFITS OF CUSTOM FRAMING?
So now you know that The Great Frame Up – St. Louis specializes in creative, custom picture framing, shadowboxes, and more at an affordable price. And there are no competitors who can claim higher quality of materials than what we use.
Custom framing also allows us to work one-on-one during the process. This allows us to work with you to select each individual element shown above – creating a unique finished product that reflects your specific interests, styles, and décor. You get exactly the piece of framed art, photography, shadowbox or other project that you're seeking!
And all framing is performed by well-seasoned pros, on-site in our workshop, with decades of collective expertise in creating the perfect piece just for you.
We also sell both framed and unframed pieces of art and photography in our shop, often St. Louis-based, and in a variety of styles. Our gift shop includes many other items and cards that would be perfect for that special gift.
So when you're looking for boutique custom framing service at some of the most affordable costs, you should definitely keep us in mind for your next framing need! Or if you are looking for an over-sized or custom mirror for your St. Louis area home or office? If so, The Great Frame Up – St. Louis can help! If you need photo or frame restoration, we're your best choice there, too.
Remember: If You Can Name It, We Can Frame It at The Great Frame Up – St. Louis!
Located near the center of the St. Louis metro area, and easily accessible from both Hwy 44 and Hwy 64/40, it's a snap getting here. Which is why we serve the entire region, from Clayton and University City; out to Ballwin and Wildwood; Ladue to Maplewood and Richmond Heights; Crestwood to Ballwin…and everywhere in between!
Call us today and get answers to all of your questions regarding your framing project at (314) 892-8333, we look forward to hearing from you!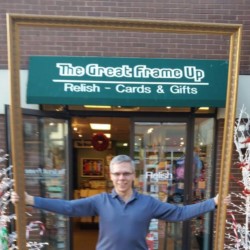 Bruce Shoults, Owner | The Great Frame Up – St. Louis