Custom Framing Vacation Memories to Preserve Them Forever
Though it's not "official" until later this month, once Labor Day has come and goes, summer has gone with it. The kids are back at school and the temperatures are starting to dip, but custom framing vacation memories from your fantastic summer trip you can still hold on to those sunny days… no matter what the weather is outside.
You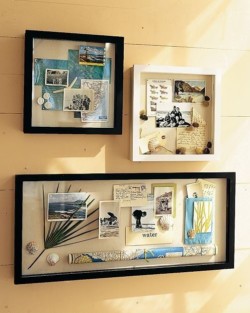 may have spent thousands on your summertime travels this year, but the experiences that you shared with the people you care about the most make it all worthwhile. But now that you've settled back into the "real world", there's a much smaller investment you can make that will help secure those good feelings forever.
Let us help you relive those long days walking at the beach, nights in the backyard catching fireflies, or travels to far-off lands and the places on your bucket list. (Do you just have photos that you would like to have custom framed? See more info about our $39.99 Photo Special below!)
When you see an elegantly-crafted piece of custom framing that highlights something meaningful from your trip hanging on the wall, you'll be transported back in time to those very happy moments all over again!
Many custom framed vacation and travel displays include different types of objects and elements combined in interesting ways. This gives a truly distinct and unique character to every presentation we create here at The Great Frame Up – St. Louis. So, what exactly should you put in that new picture frame?
Here are 10 of the best items or categories of objects you can use to help create your custom framing vacation memories:
Family Snapshots

Tickets from Games, Shows or Events

Metro or Euro Passes, Hotel Key-Cards

Foreign Currency, Stamps and Tokens

Seashells, Rocks Found on a Nature Walk, Pinecones

Maps of Favorite Destinations

Souvenir T Shirts, Hats and Other Apparel

Summer Camp Craft Projects

General Travel, Landmark or Exhibit Brochures

Postcards, Magazine Covers, Posters
Don't forget, our motto here at The Great Frame Up – St. Louis is "If You Can Name It, We Can Frame It" So, your only job is to pick the most significant things that you want to preserve forever and share with the world, and we'll help design something gorgeous to display it.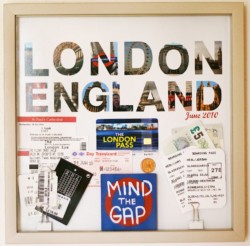 In some cases that might me a shadow box treatment, and in others it could mean a more traditional flat frame with or without a mat.
No matter what you select, we only offer the finest materials and workmanship at our frame shop. When you need local custom framing in Webster Groves, Kirkwood, Crestwood, Sunset Hills, Affton, Maplewood, Rock Hill, Glendale, and anywhere in between – we want you to think of us!
We use conservation-quality materials, like acid free mats and adhesives, and UV resistant glass. All frames are hand-constructed in our shop. We mount and mat every piece of art in a way that protects and preserves it forever. We cut our own moulding, glass, mats…and everything is always assembled here in our own shop.
And we believe that not only should we offer the most superior materials and craftsmanship in the St. Louis metro area, but our customers should expect fast custom framing, too!
That means we offer some of the quickest turn-around times in the business, and can even rush jobs more quickly when one of customers has an immediate need.
Your happiness is our top priority here in our art framing shop. And we'll do whatever it takes to make sure we are the picture frame store St. Louis residents choose first! If you are not 100% delighted with your item(s) for any reason, we want to know right away – so we can make it right.
Give us a call or stop by the store to get started on custom framing vacation memories today! Bring some of the items you think will work best, or we can brainstorm together to create the perfect combo for you.
OUR $39.99 PHOTO SPECIAL
And if there are any vacation photos from your trip you'd like to have beautifully custom framed – or any other favorite pieces of photography that deserve to be showcased – for a limited time you can take advantage of our $39.99 Photo Special.
For that low price, we offer an all-inclusive package, with many different mats and frames to choose from, and free UV glass too. All photo sizes up to 8 x 10 are part of this package. You simply can't find a better deal from any other custom frame shop in St. Louis.
But hurry in to see us soon, because this is a limited time offer!
We get to see a lot of beautiful and striking photography here at our local frame shop. We love having the opportunity to match the wonderful pieces that come through our front door with frames and mats that will really make them shine.
Call us today at (314) 892-8333 for more information, or better yet, stop on by and see us in the heart of Old Webster, at 31 Allen Avenue.
(Off Lockwood Ave, behind Straub's Grocery and St. Louis Bread Company).
Don't delay ~ We truly cannot offer a discount like this indefinitely! We really look forward to seeing you soon, to show that you really can have both boutique-level customer service and an affordable price when it comes to your custom framing!
Bruce Shoults, Owner – The Great Frame Up St. Louis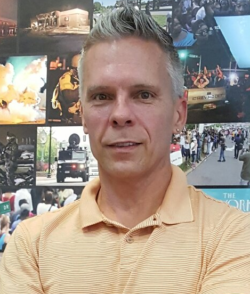 Save
Save