Custom Framing for Fine Art Solutions
At The Great Frame Up – St. Louis we offer one of the finest selection of custom frames, mats for prints and other artwork, shadowboxes and other framing option for keepsakes and any other type of item. This gives you many possible choices. Together with our superb craftsmanship, you have a winning combination.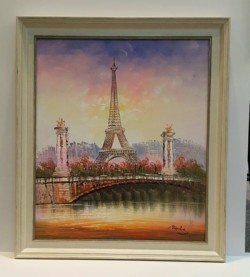 We cater to art and photography lovers of all kinds, and all those folks who wish to preserve things that are important to them, offering the best custom framing in St. Louis at a great price. Everyone at our shop understands this personal value, and treats them with the care they deserve.
We also have collectors and others who are looking to preserve and display pieces of fine art, those items that have significant value beyond their personal one. Our attention to detail and design makes it possible to do so in the most creative, appealing way.
At The Great Frame Up – St. Louis, we will:
Preserve the art in its present physical condition
Enhance the artwork so that it may be seen at its best
Protect the artwork from damage in the future
Use the finest selection of frames and mats for prints, paintings, and keepsakes
Provide superb craftsmanship and expert advice
We have decades of experience with custom framing in St. Louis. Our staff will help you design the frame with the best molding for your item, and provide the best mat and glass combinations to make your artwork look its best. This is based on the piece, and also the display environment.
Once you have decided on your design, you can rest assured that our trained technicians will skillfully transform your vision into a beautifully crafted work of art. Your completed custom frame will not only enhance your home or office with a beautiful presentation, but it will also help to protect and preserve your artwork.
For our customers in Kirkwood and Ladue, Oakville to Sunset Hills, Rock Hill and Glendale, and everywhere in between, our custom framing services will change the ordinary into the extraordinary. Your satisfaction is guaranteed!
Come see us today, give us a call at: (314) 892-8333 or send me an email at: bruce2frame@yahoo.com.
Bruce –  Owner  | The Great Frame Up – St. Louis
Save
Save
Save