Custom Framing in St. Louis at Affordable Prices
At The Great Frame Up – St Louis, we know that one of the main reasons customers hesitate to use custom framing in St. Louis for their artwork, gifts, and family treasures is the perception that doing so is going to be very expensive.  They also believe that a locally owned store like The Great Frame Up – St. Louis will be more expensive than the 'big box' stores such as Michael's, Hobby Lobby, and JoAnne's. The truth however is far different.
You'll find that at The Great Frame Up – St Louis, we provide the highest quality framing at extremely competitive prices. Several times a year, we compare our prices against the 'big box' stores, and find ours are right in line – and often lower – than our competitors, even with their extreme discount programs such as 60% off plus an additional 20% off!  And, because we are dedicated to nothing but custom framing (no floral or craft departments here) you'll find the largest and most extensive selection of beautiful frames and mats in the area.
In addition to being competitively priced, we offer many services which are impossible to find at our competitors.  Because we do all of the framing in our store by expert staff, we have the ability to complete your projects on your timeline, even if it is the next day.  In addition, the person who works with you on the design will most likely be the person that completes your project.  Our staff is dedicated to one thing:  providing the best quality custom framing possible.
At The Great Frame Up – St Louis, our motto is, 'If You Can Name It, We Can Frame It.'  From glitter flip-flops from a bachelorette party to the bumper of a '34 Chevy, we generally find a framing solution for everything.  Our experts create some of the finest needlework framing, shadow boxes and sports jersey displays in St. Louis.  In addition, we offer artwork and frame restoration, calligraphy on mats, engraved plaques, and artwork installation.
One of the other services we offer that you won't find at Michael's is free local pick-up and delivery of your artwork.  While our location in historic Webster Groves is easy to get to from all over St Louis and has ample free parking nearby, we know that coming by might not always work into your schedule.   Because of this, we will pick your artwork up, share exciting designs with you via email or text, and then deliver your finished project to your door.  If necessary, we'll even bring samples to you. All free of charge!
From Fenton to Kirkwood, Sunset Hills to Ballwin, Des Peres to Oakville, and everywhere in between – you won't find more personalized service anywhere in town.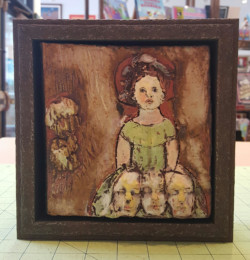 So, when you are thinking about custom framing something, whether it be your child's latest masterpiece from 2nd grade, a well-deserved diploma from the University, or your grandmother's handkerchief, give us a call.  We know that we can find a beautiful look, at a price that fits your budget!
I hope you'll come by and see us sometime soon, and see how affordable custom framing in St. Louis is at The Great Frame Up – St. Louis. Or give us a call anytime, and myself or one of our experts will help be happy to help at (314) 892-8333
Bruce Shoults, Owner | The Great Frame Up – St. Louis
Take up to 50% off your custom framing order~
Save
Save
Save